About College
---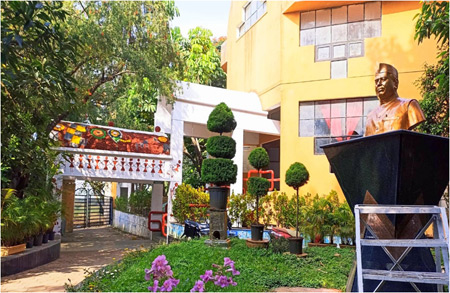 Yashwantrao Chavan School of Social Work (YCSSW) is nestled among the Sahyadri hills. The college, affiliated to Shivaji University, Kolhapur. Ycssw was started in the year 1994 by renowned author and social activist Padmashree Laxman Mane under the banner of Bhartiya Bhatke Vimukta Vikas va Sanshodhan Sanstha (BBVVSS), Satara. It is now an established rural college, offering full-time Bachelor's and Master's programmes in Social Work. YCSSW is recognized under 2f & 12b of UGC Act, 1956.
With a fine blend of curricular, field work practicum and co curricular activities, YCSSW, over the years, has established itself as an excellent centre for learning Social Work in western Maharashtra. As of now, YCSSW is only college under Shivaji University which offers Social Work programme at Bachelors and Masters Level.
YCSSW's rigorous pursuit of academic excellence, co-curricular activities, it's hardworking and illustrious faculty and 14 acre green campus has attracted students in large numbers. The prime location of the college on Sajjangadh road as also made it accessible for those students who live in far flung areas. Situated in the green belt of Western Ghats, it has a vast, well maintained and environment–friendly campus. The college completed twenty years of its existence in 2015-16. The year was marked by a series of academic, extra-curricular and cultural activities.
The Institute is named after late Shri. Yashwantrao Chavan, the first Chief Minister of Maharashtra and the former Deputy Prime Minister of India. Yashwantrao Chavan was jailed for participating in the Quit India movement and was instrumental in setting up co-operatives for farmers in Maharashtra.The mission of YCSSW is to impart higher education to marginalized communities, and to develop it as a centre for consultancy and research in Social Work field. The Institute is committed to nurturing values of equality, inclusiveness, human rights, social justice and transformation among students.
The Institute's school of thought is guided by the revolutionary ideas of Goutam Budhha, Mahatma Jotirao Phule, Chhtrapati Shahu Maharaj and Babasaheb Dr. B. R. Ambedkar. YCSSW gives thrust to inclusiveness, acceptance of diversity and creating a culture of dialogue and understanding. These areas of national significance are reflected in the day-to-day functioning of the Institute.